Story Scholars Program
Deadline to apply: October 31, 2017
2017 MARKS THE 70TH ANNIVERSARY OF PARTITION! There is a great urgency to record stories now. Join us through this special program for a unique opportunity to record oral histories during the final years of story collection. To learn more and apply, visit: http://www.1947PartitionArchive.org/StoryScholars.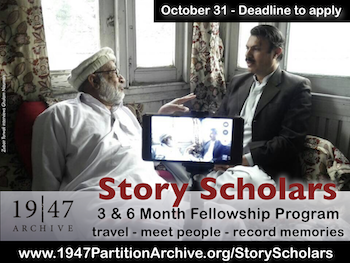 SPECIAL Sindhi language Scholarships
Special scholars are available for Sindhi language speakers for recording oral histories of Sindhi speakers in India, as a part of the Story Scholarship Program.  The Sindhi language is considered endangered in India.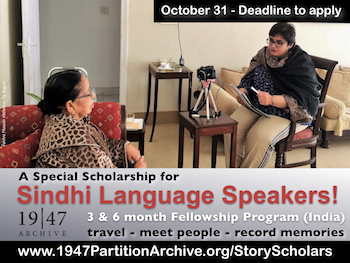 To apply, use the general application for the Story Scholars program. Visit: http://www.1947PartitionArchive.org/StoryScholars.

Highlights
August 18, 2017 | Dawn -- Karachi
Online: Time to heal

August 13, 2017 | NPR News -- Washington
Online: Giving Voice to Memories From 1947 Partition And The Birth of India and Pakistan

August 8, 2017 | BBC -- London
Online: Collecting 'difficult memories' from the birth of two nations


August 14, 2013 | The New York Times -- New York, NY
Potent Memories From a Divided India

August 7, 2017 | The Tribune -- Chandigarh
Online: Largest collection of Partition witness accounts set for release


August 7, 2017 | The Times of India -- Delhi
Online: Notes From The Great Divide: Witnesses of Partition unite to tell tales of pain and separation


April 24, 2017 | Dawn.com -- Karachi
Online: Partition Stories, from those who witnessed it

August 6, 2017 | Mumbai Mirror -- Mumbai
Online: Revisiting Partition: 70 Years On, Mumbaikars Come Together To Reflect On The Past

August 17, 2016 | The Nation -- Lahore
ORAL HISTORIES GO PUBLIC!
Access The 1947 Partition Archive at the Stanford Digital Repository!
The 1947 Partition Archive is excited to partner with a consortium of universities to make the complete oral history collection available and accessible to the public. A portion of The 1947 Partition Archive's oral history collection is now accessible by online streaming from Stanford University Library's Digital Repository via this Spotlight Exhibition.  Stories will be released at the rate of one a day.
Physical exhibits containing the complete works of The 1947 Partition Archive, with 4300 oral history interivews and 30,000 digital documents, will be coming soon to Lahore University of Management Sciences, Ashoka Unviersity, University of Delhi, Guru Nanak Dev University and Habib University. Read the complete coverage below.
The New Indian Express, The Tribune India, Dawn.com, Business Standard (IANS), Financial Times (IANS), Times of India (IANS), The Wire (IANS), The Week (IANS)

Watch: What we do
Watch on New York Times:
Watch on YouTube:
The 1947 Partition Archive, "The Archive" has been preserving oral histories of Partition witnesses since 2010 through a combined program that includes crowdsourcing by Citizen Historians and trained scholars.  Over 4500 stories have been preserved on digital video, making The Archive the largest documentation effort focused on Partition.  Oral histories have been recorded from 350+ cities in 12 countries across the world. A tiny staff supported by interns work tirelessly behind the scenes to support the 50+ Story Scholars who are contributing oral histories, and over 500 Citizen Historian volunteers who have devoted an estimated 50,000 hours in volunteer labor towards recording stories.  Over 750,000 followers on Facebook and Twitter have shared witness stories - posted twice daily - 10's of millions of times, resulting in many reunions of old families and friends. The Archive is truly a labor of love, built for people, by people from diverse backgrounds. You too can join us. Learn how to record and share a story from your community now!  Or support another story through your donation.

Featured Interview Clips
Video: Ali Shan migrated from East to West Punjab (full interview coming soon)
Video: Kazi Shamsuzzaman migrated from West to East Bengal (full interview coming soon).
Video: Ajit Cour migrated from West to East Punjab (full interview coming soon).