Internships & Apprenticeships - Learn while giving back!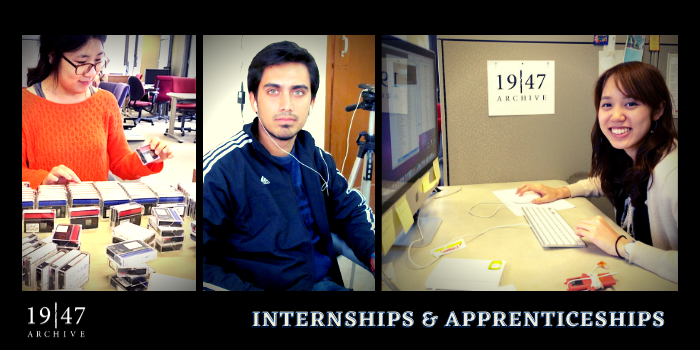 Learn while giving back!
The 1947 Partition Archive is now accepting applications for our Internships & Apprenticeships Program.  Internships and Apprenticeships are designed for high school, college and post-graduate level students, recent graduates, as well as retirees and career professionals looking for a change.  In addition to gaining important career skills, apprentices also expand to the next level and learn how to support and manage entry level practitioners. Apprentices are expected to be advanced in their skills and career-ready upon graduation.
We seek bright and enthusiastic interns and apprentices interested in gaining field experience. We currently have positions available in several fields, as listed below. Applicants should be serious, highly motivated and have the necessary experience as described for each position.  
Prior to acceptance all applicants will undergo a competitive evaluation.  Interns and apprentices accepted into the program will be paired with an experienced mentor in their area of concentration.
At present, we only offer unpaid volunteer internships and apprenticeships, intended for the applicant to gain field experience while giving back to society in the spirit of 'seva' as The 1947 Partition Archive remains a largely volunteer based organization. Applicants are encouraged to seek credit through their respective colleges and university programs, if applicable. Interns will receive relevant training, fieldwork experience as well as guaranteed references. References will only be provided to those who satisfactorily complete their internship term. Experience or knowledge in South Asian studies is not necessary, however we do require some task specific experience for certain positions.
NEW POSITIONS FOR 2023! 
Scroll below for descriptions of available positions. 
NOTE: For Digital Oral History Archivist (DOHA) paid internships and apprenticeships, CLICK HERE. Deadline - June 10, 2023

SUMMER CYCLE APPLICATION CLOSED: MAY 1ST, 2023 - CLOSED
FALL CYCLE APPLICATION CLOSED: JUNE 10, 2023 - CLOSED
1. ORAL HISTORY PROGRAM
1.1 Citizen Historian
Take a front-row seat to what The 1947 Partition Archive's work is all about! Document witness oral histories; learn fieldwork skills and the nuance of oral history. Graduate as a trained oral historian!
Special requirement: To apply for this internship, you must be a certified Citizen Historian with The 1947 Partition Archive.  The process can take anywhere from a week to a month, so please get started early!  To become a certified Citizen Historian, you must 1) take an oral history workshop (click here), 2) conduct and submit your first oral history interview, and 3) have the interview approved by archivists. DON'T WORRY: If you miss the deadline for this time, please continue the process as you'll then become eligible for the next cycle.  For questions, feel free to emai us.


1.2 Digital Oral History Archivist (DOHA) - APPLY HERE
*Please note that the application for the DOHA program is separate from the general internship application linked on this page.  Apply at the DOHA program page here.
Keep the stories coming. Support and inspire the storytellers and story collectors through your digital archiving work. Learn the ins and outs of handling and preserving delicate components of a sensitive collection as it builds in real-time, in a cloud-based environment.  Learn professional community communications and the careful handling of large archival data sets.

1.3 Copy Editor
Go from novice to practitioner as a copy editor. This position builds not only copy-editing skills but also content management skills in a large archival data set.

1.4 GIS Tagging and online mapping / Storymap Curation 
Manage and curate GIS online interactive map entries. Managing and curating The 1947 Partition Archives Story Map online is like an engaging puzzle. The game includes juggling content updates/upkeep, GIS discovery, quality control, and more! Become a dedicated Curator!

1.5 Community Relations
Be the voice of The 1947 Partition Archive; learn the nuance and skill of communicating with an organization's community via phone, email, and other means.

1.6 Communications & Outreach Research
Research, strategize, and develop digital outreach in academia. This is one of our few entry-level internships accessible to all skill levels, including beginners. 
2. DIGITAL CONTENT CURATION: VIDEO/GRAPHICS EDITING, WRITING, PUBLISHING
2.1 Digital Storytelling: Content Curation & Copy Writing
Journalistic writing as well as social media curation opportunities; learn digital publishing strategy.

2.2 Digital Graphics Editor - Photo and/or Video
Add the magic of your creativity to visually enhance stories

2.3 Social Media and Digital Outreach Researcher (Unavailable for this cycle)
Research important historical facts and statistics; Research scholarly literature; Research web sources and other sources.
3. ONLINE BROADCASTING
3.1 Live Switch-Boarding and Online Broadcasting (Unavailable for this cycle)
Interested in television productions and broadcasting? This might be the place to get a flavor of this fast-paced work.

3.2 Events Researcher (Unavailable for this cycle)  
Research a wide array of issues associated with event logistics, content, and strategy

3.3 Event and Conference Organizing (Unavailable for this cycle)  
Learn the ins and outs of event and conference organizing. This is fast-paced and deadline-oriented work. It requires a high level of organization and communication skills.
4. NON-PROFIT DEVELOPMENT AND FUNDRAISING
4.1 Grants Research and Writing (Unavailable for this cycle) 
At the end of this apprenticeship, you'll have learned the nuance of researching grants databases, finding grant opportunities for specific projects, writing letters of intent, tailoring grant asks to match funder needs, and writing a complete grants application.  You'll acquire critical skills and be ready for a career in grant-writing, technical writing, or for your own academic writing.

4.2 Non-Profit Accounting and Bookkeeping (Unavailable for this cycle) 
Learn to keep books, keep tabs of expenses, and all things accounting. This is an internship that requires attention to detail and the use of accounting software.

4.3 Donor Communications (Unavailable for this cycle) 
Build relationships with those who provide resources to build The 1947 Partition Archive.

4.4 Donations Accounting and Sponsor Matching (Unavailable for this cycle) 
Are you a numbers person? Great with spreadsheets? Connect sponsors to the incredible stories they have helped record. Spark joy :) 
5. ONLINE LIBRARIAN
5.1 Online librarian  
Maintain the online library of book links.
6. DATA VISUALIZATION
6.1 Data Visualization (Unavailable for this cycle)
Find trends; manage and study data; visualize and present the data in meaningful, compelling ways; discover new trends.