APPLICATION: Story Scholars Program -AND- Oral History Apprenticeship Program
2017 MARKS THE 70TH ANNIVERSARY OF PARTITION!  There is a great urgency to record stories now.  Join us through this special program for the final years of story collection.  Below, please find the application, instructions and program description for two of our story collection programs, the Story Scholars Program which is a full time commitment and the Oral History Apprenticeship which is a part time commitment.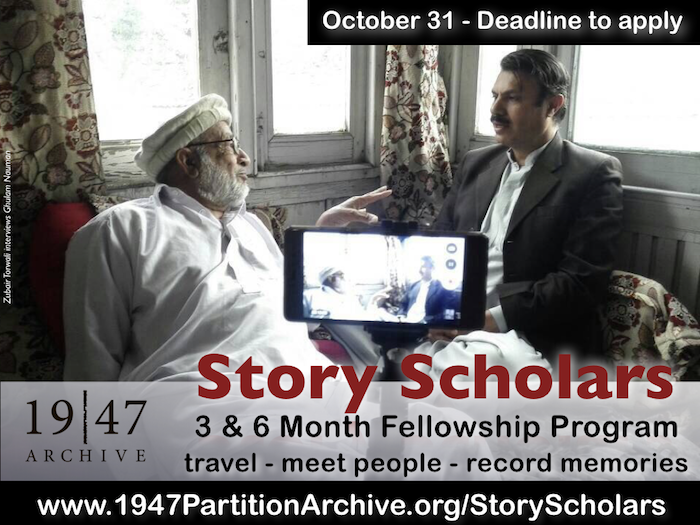 You must be a Citizen Historian to apply.  It's easy to do...
To apply, you must first become a Citizen Historian.  To do so, you must have attended an Oral History Workshop and have conducted and submitted an interview with a Partition witness in your community.  It can take a few weeks to a month to successfully complete the process to become a Citizen Historian.  We suggest you begin immediately!  Become a Citizen Historian now:  http://www.1947PartitionArchive.org/Collect_Stories

Application Cycle Deadline:  October 31, 2017 at 11:59 pm 
 
The 1947 Partition Archive is now accepting applications for our Story Scholars Program in South Asia. You may apply to one of our funded districts listed below or define your own region within South Asia where you think stories should be collected.  In the questions below, you will be asked to justify your choice with evidence.  The funded regions currently include:
a) Maharashtra, India
b) Sindh, Pakistan
c) Dhaka, Bangladesh
d) Delhi, NCR, India
e) West Bengal, India
f) Assam, India
g) Bihar, India
h) Baluchistan, Pakistan
i) Punjab, Pakistan
j) Punjab, India 
k) Jodhpur and/or Jaipur, Rajasthan
l) Special compensation city: Lahore, Karachi, Delhi, Mumbai, Hyderabad, Chennai, Bangalore
m) 

Other... NOMINATE A CITY 
Deadlines and Dates 
Last date for applications:  October 31, 2017 at 11:59 pm
Fellowship begin date:  December 15, 2017
WHICH PROGRAM WOULD YOU LIKE TO CHOOSE?
>>(1) STORY SCHOLAR PROGRAM ('SSP' - FORMERLY 'ORAL HISTORY APPRENTICESHIP') - 3 month commitment -OR- 6 month part time commitment
Commitment:   Unlike the Story Scholars Program can be treated as a full time commitment over 3 months or as a part time commitment over 6 months.  The 6 Month Track commitment track is for individuals who have other commitments such as students or professionals who are unable to place their career on hold for a full time commitment. The 3 Month Track requires full time commitment for the 3 months and is an ideal choice for summer holidays for college students.  

About the SSP: The 1947 Partition Archive provides a platform to record, preserve and share narratives of Partition created for and by people across the globe. We want to educate the world on Partition, especially through first hand accounts and lived experiences. The Story Scholars Program is one of our initiatives for the collection of oral histories from Partition witnesses. The Archive works to ignite research and discovery based on lived Partition experiences. 

The Story Scholars Program entails a 3-6 month period of focused story collection in the Scholars' selected geographical region.  The Archive will provide training to the scholar.  Equipment for borrowing from The Archive may be available to the Scholar, subject to availability.  Scholars will reach out to individuals in their community who have witnessed Partition first hand (migrants and non-migrants), record their oral histories and share them through The Archive's web portal and media collaborations.  Scholars will also be required to engage the public in developing storytelling skills through a publicly held Oral History Workshop.  Scholars will remain in contact with the Program Coordinator on a bi-weekly basis.  Scholars may collaborate with The Archive in publishing research based on stories in academic journals.  The Archive may pair scholars with an academic mentor.  Scholars will have opportunities to present their work in public and academic spaces, as well as community building and networking opportunities.  Scholars will receive a modest stipend and a certificate upon successful completion of the program.  Upon successful program completion, Scholars will be recognized as alumni into perpetuity and have access to further opportunites through The Archive, including the opportunity to apply for select staff positions, to represent the Archive publically and much more.

>>(2) ORAL HISTORY STUDENT INTERNSHIP (OHSI) - 6 week summer commitment
Commitment:  To apply for the 6-week long summer Oral History Student Internship program designed for college students, please visit http://www.1947partitionarchive.org/OH_Internship
PROGRAM DETAILS
>>Duration
Program start date:  December 15, 2017
Story Scholars Program Length: Choose the 6 month track or 3 month track (ideal for summer break):
Apprenticeship 6 Month Track: 3 months probationary period followed by three months of apprenticeship work.
Apprenticeship 3 Month Track: 1 month probationary period followed by two months of apprenticeship work.
Oral History Student Internship Length:  6 weeks (visit http://www.1947partitionarchive.org/OH_Internship)
>>Job Description
Engage with and conduct oral history interviews with Partition witnesses

Travel to intriguing locations, both urban and rural; meet intriguing people
Maintain communications with interviewees; manage scheduling, answer questions, etc.
Manage post interview paperwork, oral history data and online material submission
Publish results and generate reports
Engage in public outreach
Conduct one oral history workshops for the public
Engage in discussions with global Story Scholars community
Engage in regular communication with The 1947 Partition Archive global team
>>Job Requirements
Strong oral and written communication skills
Ability to interview subjects of diverse backgrounds
Proficiency with internet usage and access to reliable internet
Documentation skills including basic video skills
Experience managing databases (such as Excel)
Language skills appropriate to geography
Ability to work and travel independently
A passion for preserving stories from your region
Deep dedication and strong focus on the job
Public speaking abilities
Story Scholars - 6 Month Track: 60 Total Stories - Record 8 interviews/month for first 3 months and 12 interviews/month for next three months.
Story Scholars - 3 Month Track: 60 Total Stories - Record 16 interviews/month for first month and 22 interviews/month for next two months.
Oral History Student Interns: 20 Total Stories - visit http://www.1947partitionarchive.org/OH_Internship
>>Program Expectation:
Story Scholars are highly motivated and enthusiastic individuals with a deep interest and passion for modern South Asian history and storytelling.  Story Scholars are individuals who wish to participate in and devote themselves to expanding and broadening the understanding of modern South Asian history.  The Story Scholarship program is ideal for individuals who have a passion for traveling, meeting new people and gaining a better understanding of the world and culture around them.
Scholars are expected to develop ownership of their project, be flexible with their working hours, ready to work hard and devote their time in realizing the archive's mission. The 1947 Partition Archive encourages its scholars to participate in public outreach programs and activities where they can further our mission to collect, document and preserve narratives.  The 1947 Partition Archive Story Scholar will represent the organization at public lectures, schools and similar platforms in educating the public on Partition and collecting narratives.  Scholars must have a strong passion for and dedication to our mission and goals. 
What Scholars can expect?  Scholars will receive relevant training, fieldwork experience.  All Scholars will be working under the guidance of a local mentor (distinguished scholar/ academic), and will work directly with the program coordinator.  Story Scholars' work will be published and widely distributed through The Archive website and via other media collaborations.
>>Candidates must be:
Currently enrolled college students or college graduates of any discipline.
Masters students are preferred, but Bachelors students will be considered.
Confirmed Citizen Historians (you must submit a completed interview to be considered): http://www.1947PartitionArchive.org/Collect_Stories
>>Selection Procedure:
Selection of the candidates will be a three tiered process.
Review of your submitted work as a Citizen Historian
Your online application and references
A series of up to three interviews with Archive staff, Archive advisers and current Story Scholars
>>COMPENSATION (revised for 2017)
Note that INR and PKR distinguish the payable stipend amounts in Rupees for India and Pakistan respectively.

Story Scholars Program - 6 Month Track:

Rs. 6500 INR / Rs. 10500 PKR / 8000 Taka - First three month probationary period
Rs. 12000 INR / Rs. 20000 PKR / 15000 Taka - Month 4 to Month 6
Story Scholars Program - 3 Month Track:
Rs. 13000 INR / Rs. 21000 PKR / 16000 Taka - First month
Rs. 22000 INR / Rs. 36000 PKR / 27000 Taka - Month 2 and 3
>>SPECIAL COMPENSATION (Bangalore, Chennai, Mumbai, Delhi, Hyderabad, Karachi, Lahore, Islamabad)
The special compensation accounts for increased cost of living in the 8 major cities identified.  Note that INR and PKR distinguish the payable stipend amounts in Rupees for India and Pakistan respectively.
Oral History Apprenticeship - 6 Month Track:
Rs. 8000 INR / Rs. 13000 PKR - 

First three month probationary period

Rs. 14500 INR / Rs. 21500 PKR - Month 4 to Month 6
Oral History Apprenticeship - 3 Month Track:
Rs. 16000 INR / Rs. 26000 PKR  - First month
Rs. 26000 INR / Rs. 43000 PKR  - Month 2 and Month 3
>>Last date for applications is: October 31, 2017 

>>Fellowship begins:  December 15, 2017