Voices of Partition 2015
Join us in the San Francisco Bay Area as we explore the 1947 Partition via storytelling by witnesses sharing their stories, story collectors sharing their experiences and academics sharing new insights.
Date: April 23, 2015
Time: 6:30 pm
Tickets: FREE! Register Now.
Venue: De Saisset Museum, Santa Clara Univ., Santa Clara, CA
Volunteer: Sign up now.
Sponsor Voices of Partition: Advertise your business and help preserve stories. Click to download packet.


Highlights
More events... 
_____________________________________________
Explore the Story Map
Browse interview photos, videos and chart migration paths on the interactive Story Map.

 __________________________________________________________
Our Free Monthly Newsletter
Keep up with events, highlights, stories, fellowships and more through our free monthly newsletter.  Sign up here. 

Story Scholars 2015
Travel - Meet people - Preserve disappearing history!
NEW! Increased stipends for Delhi, Lahore, Hyderabad, Mumbai, Karachi, Bangalore, Chennai.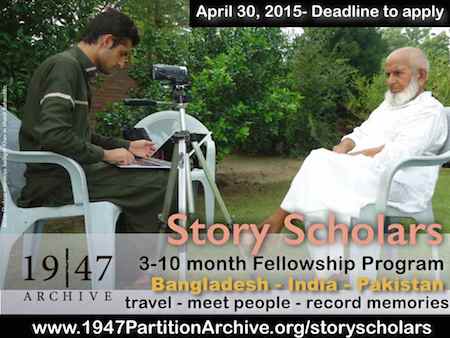 Application Deadline: April 30, 2015
Term begin date: June 1, 2015
Term Period: 3, 6 or 10 months
Apply now!

What we do
Featured Interview Clips
Video: Ali Shan migrated from East to West Punjab (full interview coming soon)
Video: Kazi Shamsuzzaman migrated from West to East Bengal (full interview coming soon).
Video: Ajit Cour migrated from West to East Punjab (full interview coming soon).
Help record stories in 2015:
YOU can ensure story recording continues in 2015 through your support.  This work is supported entirely by individual donors such as yourself.



Donate by Check or Bank Transfer:

Mail checks to:
The 1947 Partition Archive
PO Box 9505
Berkeley, CA 94709
Checks will be reflected in the above campaign after processing.

For bank transfer, contact ask@1947PartitionArchive.org