70th Anniversary Exibitions
August 9-24 | Bikaner House
The 1947 Partition Archive is excited to announce an exclusive partnership with Bikaner House in showcasing oral histories through an exhibition curated by artist and author, Aanchal Malhotra, coordinated by Ritika Popli with design by Shilpa Narain and architecture by Siddharth Wadhwa.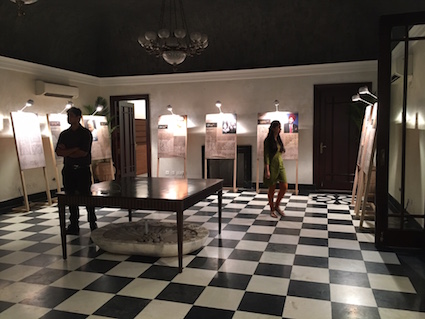 The educational public exhibition will also include a series of events including Voices of Partition, film screenings, photography and visual arts exhibitions, to commemorate the 70th anniversary of Partition. Lest we forget.  For more information visit our Facebook page.  Complete schedule coming soon.

August 14-18 | India Habitat Center
Location:  Art gallery
Exhibit: Women during Partition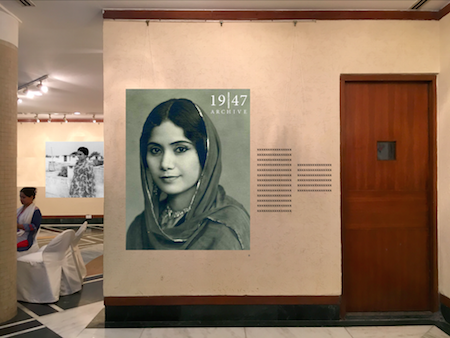 The Partition of India in 1947 resulted in the largest mass-migration of people in the world till date. In recent years, testimonies of these migrations from those who witnessed the event have begun to emerge, resulting in a better understand of the Partition. Among these, the narratives of women- young and old- are imperative as they alert us on the impact the Partition had on familial life, on homes and ways of living.
Women during Partitionexplores first-hand accounts with women who witnessed the Partition. Those who refused to leave until months after the Partition, and those who had to leave at just a moment's notice. Through their stories, through the very nature of archival image, we learn about the circumstances of their migrations. We learn of family, education, the plight of refugees, and the most importantly, the notion of hope.
August 27 - September 8 | India International Center
Exhibit: Diversity in Narratives
Seven decades have passed since the Partition of 1947 and still remnants of it continue to linger only latently in public memories and histories. The forthcoming exhibition by The 1947 Partition Archive will unravel the memories of people who witnessed the days of the Divide. This multimedia exhibit will highlight the socio-cultural ethnography and memory of the Partition by bringing forth those voices that have otherwise been unheard: the story of a woman still living in a refugee camp, separated from her daughter due to the man-made border, how a city-wide BA exam was put on hold due to a referendum in Sylhet, how two brothers converted to Islam to remain on their land while their sister made her way across to India, and how two brothers travelled from Travancore State to the North-West Frontier Province in search of work and were stranded there due to the Divide.
Each and every panel of this exhibit presents a unique first-hand experience and displays how the pivotal event that determined the subcontinent's contemporary history continues influences society till today. These narratives are from all around the globe, with a special focus on subversive narratives through the lens of class, caste, and gender. The choice of regional locations is diverse and also brings to light narratives of Partition that are often never considered as part of popular imaginary.
Diversity in Narratives invites, for the very first time, public audiences to engage with exemplary oral histories collected by The 1947 Partition Archive over the last 8 years. It is an exhibition that marries the notions of history, memoir, longing and belonging.
Join us! CURRENT OPENINGS:
Click on the links to view applications.  Most positions have an application deadline, or are getting filled fast.

INTERNSHIPS:
Berkeley: Mini Documentary Maker
Berkeley: Digital Oral History Archivist
Berkeley: Grant Writer
Berkeley: Social Media Editor
Berkeley: Events management
VOLUNTEER:
Worldwide: Record Stories & Become a Citizen Historian
India: Join Friends of The Archive
USA: Join Friends of The Archive
Pakistan: Join Friends of The Archive
UK: Join Friends of The Archive
------------------------- 
Highlights
Other ways to support stories:
ORAL HISTORIES GO PUBLIC!
Access The 1947 Partition Archive at the Stanford Digital Repository!
The 1947 Partition Archive is excited to partner with a consortium of universities to make the complete oral history collection available and accessible to the public. A portion of The 1947 Partition Archive's oral history collection is now accessible by online streaming from Stanford University Library's Digital Repository via this Spotlight Exhibition.  Stories will be released at the rate of one a day.
Physical exhibits containing the complete works of The 1947 Partition Archive, with 4300 oral history interivews and 30,000 digital documents, will be coming soon to Lahore University of Management Sciences, Ashoka Unviersity, University of Delhi, Guru Nanak Dev University and Habib University. Read the complete coverage below.
The New Indian Express
The Tribune, India
Dawn.com
Business Standard (IANS)
Financial Times (IANS)
Times of India (IANS)
The Wire (IANS)
The Week (IANS)

Watch: What we do
Watch on New York Times:
Watch on YouTube:
The 1947 Partition Archive, "The Archive" is the world's first and currently the largest attempt at memorializing the people's history of Partition.  To do this, The Archive has been preserving oral histories of Partition witnesses since 2010 through a combined program that includes crowdsourcing and a scholarships.  Over 4300 stories have been preserved on digital video from 350+ cities in 12 countries across the world. A tiny staff supported by interns work tirelessly behind the scenes to support the 50+ Story Scholars who are contributing oral histories, and over 500 Citizen Historian volunteers who have devoted an estimated 50,000 hours in volunteer labor towards recording stories.  The Archive is truly a labor of love, built for people, by people from diverse backgrounds. You too can join us. Learn how to record and share a story from your community now!  Or support another story through your donation.

Featured Interview Clips
Video: Ali Shan migrated from East to West Punjab (full interview coming soon)
Video: Kazi Shamsuzzaman migrated from West to East Bengal (full interview coming soon).
Video: Ajit Cour migrated from West to East Punjab (full interview coming soon).
________________________________________________   
Our Free e-Newsletter
Keep up with events, highlights, stories, fellowships and more through our free monthly newsletter.  Sign up here.