Join us! CURRENT OPENINGS:
Click on the links to view applications.  Most positions have an application deadline, or are getting filled fast.

INTERNSHIPS:
Berkeley: Mini Documentary Maker
Berkeley: Digital Oral History Archivist
Berkeley: Grant Writer
Berkeley: Social Media Editor
Berkeley: Events management
VOLUNTEER:
Worldwide: Record Stories & Become a Citizen Historian
India: Join Friends of The Archive
USA: Join Friends of The Archive
Pakistan: Join Friends of The Archive
UK: Join Friends of The Archive
------------------------- 
Portal: Hindustan Times & Dawn.com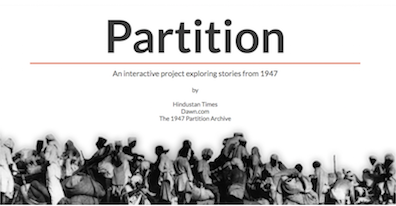 An interactive project exploring stories from 1947
Hindustan Times and Dawn.com collaborate with The 1947 Partition Archive in bringing you an educational and exploratory portal showcasing stories, maps and commentary related to Partition.
See it on Dawn.com
See it on HindustanTimes.com

Highlights
Other ways to support stories:
Watch: What we do
Watch on New York Times:
Watch on YouTube:
The 1947 Partition Archive, "The Archive" has been preserving oral histories of Partition witnesses since 2010 through a combined program that includes crowdsourcing and a scholarship program.  Over 3500 stories have been preserved on digital video from 330 cities in 12 countries across the world. A tiny staff of four supported by twelve interns work tirelessly behind the scenes to support the 40 Story Scholars who are contributing oral histories, and over 500 Citizen Historian volunteers who have devoted an estimated 30,000 hours in volunteer labor towards recording stories.  The Archive is truly a labor of love, built for people, by people from diverse backgrounds. You too can join us. Learn how to record and share a story from your community now!  Or support another story through your donation.

Featured Interview Clips
Video: Ali Shan migrated from East to West Punjab (full interview coming soon)
Video: Kazi Shamsuzzaman migrated from West to East Bengal (full interview coming soon).
Video: Ajit Cour migrated from West to East Punjab (full interview coming soon).
________________________________________________   
Our Free e-Newsletter
Keep up with events, highlights, stories, fellowships and more through our free monthly newsletter.  Sign up here.