SUMMER INTERNSHIP: California Story Scholars Program - CLOSED
Interested in spending your summer meeting amazing culture bearers in your community?  Get paid to record oral histories this summer.  Below, please find the application, instructions and program description for the California Story Scholars Program. This program is made possible with support from Cal Humanities, a non-profit partner of the National Endowment for the Humanities.  Visit http://www.calhum.org.  To apply to the South Asia Story Scholars Program, please go here.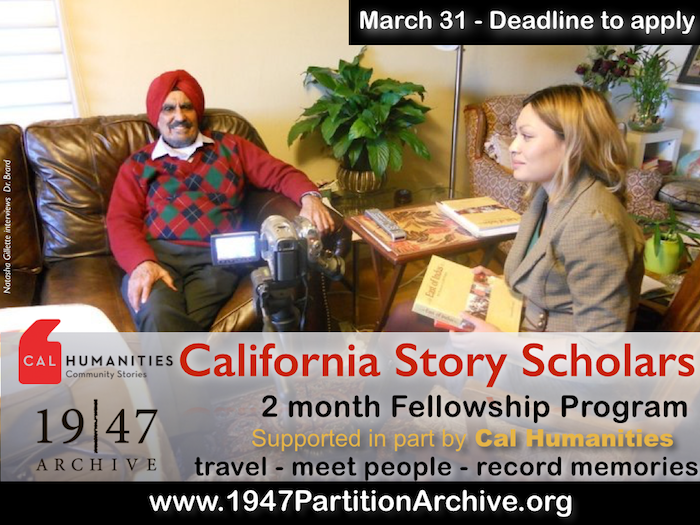 Citizen Historians are given priority!
 Click to train now!
You are encouraged to become a Citizen Historian before applying:  Citizen Historians who have trained online and conducted an interview will be given priority consideration for the scholarship program.

It can take a few weeks to a month to successfully complete the process to become a Citizen Historian.  We suggest you begin immediately!  Become a Citizen Historian now:  http://www.1947PartitionArchive.org/Collect_Stories
>>APPLICATION DEADLINE:  March 31, 2015 at 11:59pm PST - CYCLE CLOSED (CHECK BACK SOON)
The 1947 Partition Archive is now accepting applications for our Story Scholars Program in California. You may apply to one of our funded regions listed below.  In the application below, you will be asked to justify your choice.  The funded regions currently include:


Central Valley, California (Yuba City, Fresno, Sacramento)
>>DEADLINES AND DATES - CYCLE CLOSED (CHECK BACK SOON)
Last date for applications:  March 31, 2015 at 11:59pm Pacific Standard Time. 

Fellowship period begin date:  June 1, 2016
Fellowship full-time field-work dates: July 1 - August 31, 2016
Complete Fellowship schedule:
June 2016: Attend training sessions in Berkeley, CA, meet project advisers and Archive staff.  10 hour commitment total during February.
July 1 - August 31, 2016: Oral History collection field work (record and submit 25 Interviews). 

Story scholar may complete field work early.

 Full time commitment, i.e. the Scholar is expected to devote 100% of their time to recording stories, until completion of 25 interviews.
September 1 - Decmber 30, 2016: Work with Archive staff, project advisers and local museums in curating select interviews for display at a Voices of Partition event in California's Central Valley.
PROGRAM DETAILS
>>CALIFORNIA STORY SCHOLAR PROGRAM - Full time commitment for 2 months.
Commitment:  The Story Scholars program is a full time commitment that requires that the individual focus their complete time and energy for a 2 month period to recording oral histories of Partition witnesses.  In addition, prior to and following the two month full time scholarship field work period, shorter time commitments are required for mandatory trainings and post field-work story processing.

What Scholars can expect?  Scholars will receive relevant training, fieldwork experience and field equipment.  Beginning June, scholars will receive comprehensive personalized feedback on work submitted prior to scholarship as a Citizen Historian, and relevant field training and instructions of scholarship period.  Scholars will be required to travel to Berkeley, CA for one complete day during which time they will meet and interact with Archive staff, attend instructional sessions and have the opportunity to meet with or communicate with program advisers. In addition, Scholars will be expected to review training materials and complete pre-field work preparations on their own time in June.  

Beginning July, Scholars will travel to the homes of Partition witnesses in their chosen region and record oral histories.  If required, scholars are responsible for all lodging costs in their region.  However, The Archive will work with Scholar in identifying host families or other venues that will offer subsidized or cost-free lodging to Scholar.   Though public transportation may be sufficient in the San Francisco Bay Area, a personal vehicle would be necessary for scholar to travel within the Central Valley region. Scholars are expected to record 25 oral histories over a two month period. Scholars are responsible for all transportation costs with the exception of travel for training costs in June. Scholars may complete the recording early (in less than two months) if the Scholar's personal schedule requires it.  All equipment shall be returned by the Scholar to The Archive upon completion of the field work period.  Scholar is responsible for the cost of replacing damaged equipment.  Scholar may choose to use personal equipment.

Following the completion of oral history recording, in September the Scholars will begin working closely with Archive video editors and digital archivists in curating select stories for display at venues (TBA) in the Central Valley. The Scholars will also work with Archive staff in organizing Voices of Partition event(s) in the Central Valley region (venue TBA).  All work starting September can be accomplished remotely and the Scholar's presence is not required in Berkeley.  Scholars are expected to contribute no less than 10 hours a month towards the story curation and event planning activities. Scholars are required to speak at and be present at the Voices of Partition events in December. Following the submission of stories, 

Story Scholars' work will be published and widely distributed through The 1947 Partition Archive website, social media and via other media collaborations.

Scholars may refer to all oral histories recorded during the fellowship period for future academic and institutional research projects, in which they are named the primary researcher.


>>FIELD WORK DESCRIPTION
Engage with and conduct oral history interviews with Partition witnesses in their homes

Travel to urban and rural locations to meet witnesses
Scholar is responsible for discovering and reaching out to witnesses beyond the initial contacts received from Archive staff
Maintain communications with interviewees; manage scheduling, answer questions, etc.
Manage post interview paperwork, oral history data and online material submission
Scholar is responsible for internet access and online submission of materials
Engage in discussions with global Story Scholars community via mandatory monthly meetings
Engage in regular communication with The 1947 Partition Archive global team
>>FIELD WORK REQUIREMENTS
Strong oral and written communication skills with individuals of diverse backgrounds
A passion for preserving stories from your region
Public speaking abilities
Comfort traveling long distances by car/personal vehicle.
Proficiency with internet usage and access to reliable internet
Basic experience managing databases (such as Excel)
English plus Urdu and/or Punjabi and/or Bengali Language skills are preferable but not required
Ability to work and travel independently
Scholar is responsible for access to transportation such as a personal vehicle.  Extensive travel may be required in recording stories especially in California's Central Valley.
Scholar is responsible for access to adequate mobile communications device (such as a phone) for sending/receiving text messages, calls and other forms of communication.
Scholar is required to maintain bi-weekly contact with digital Archivists in Berkeley.
With the exception of travel for the training in June, Scholar is responsible for all transportation and lodging costs incurred.  A stipend is provided to offset travel costs.
Record 25 stories and submit all accompanying materials, including video files, release forms, post interview documents and photographs.
>>TO APPLY CANDIDATES MUST BE:
Confirmed Citizen Historians PREFERRED (you must submit a completed interview no later than March 31, 2015 to be preferred): http://www.1947PartitionArchive.org/Collect_Stories

Masters degree preferred, but upper class (junior and senior level) Bachelors students in good standing, will also be considered.

Preferably California residents.

US Citizens or permanent residents only.  We currently are not equipped to offer visa or travel support services for this scholarship. (To apply to the South Asia Story Scholars Program in Bangladesh, India and Pakistan, please visit http://www.1947PartitionArchive.org/StoryScholars)
>>SELECTION PROCEDURE:
Selection of the candidates will be a three tiered process.
Review of your submitted work as a Citizen Historian
Your online application and references
A series of up to three interviews with Archive staff, Archive advisers and current Story Scholars
>>TOTAL COMPENSATION: $3000.00
Stipend dispersement schedule
Note: Scholars may supplement support provided by The 1947 Partition Archive via additional grants or other institutional funding, including but not limited to graduate or other academic research stipends.
July 1, 2016 ($500): Upon completing of required training in June, Scholars will receive first dispersement of scholarship stipend in the amount of $500.00.
August 2016 ($1500): Upon completion of first month and recording 13 stories, Scholars will receive second dispersement of scholarship stipend in the amount of $1500.00 no earlier than August 1, 2016.
September 2016 ($750): Upon completion of recording and submission of all 25 stories, Scholars will receive last installment of scholarship stipend in the amount of $750.00, no earlier than September 1, 2016.
December 2016 ($250): Upon completion of Voices of Partition events and completion of all program requirements.
>>LAST DATE FOR APPLICATIONS: March 31, 2016 - CYCLE CLOSED (CHECK BACK SOON)
>>FELLOWSHIP BEGINS: July 1, 2016 - CYCLE CLOSED (CHECK BACK SOON)
--------------