Story Map
Join our mailing list!
INSPIRATION IN YOUR INBOX!
Click here to subscribe to our mailing list.

Join: Sunday Stories Live, every Sunday!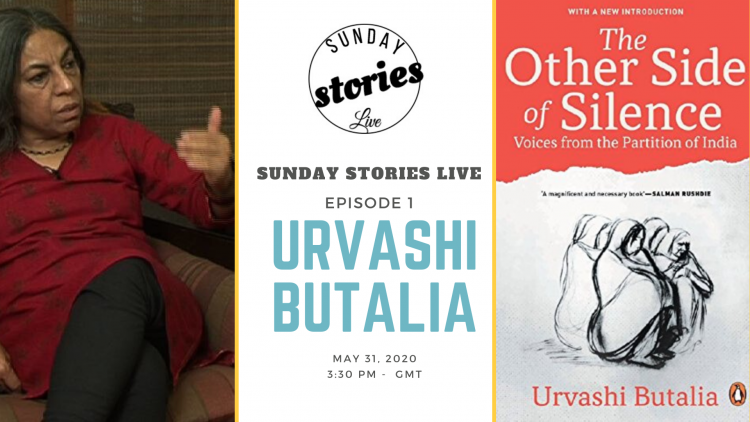 Join us live online for our weekly live and interactive series, Sunday Stories Live on Facebook featuring eminent movers and shakers changing our perception on South Asian history, especially as it relates to colonialism and 1947.

To watch all previous events in the series, visit the series page.
~ Every Sunday ~
Host: Noor Chawla
Timings:
9:00 PM - Delhi
8:30 PM - Karachi
3:30 PM - GMT
11:30 AM - New York
8:30 AM - California
RSVP here to receive updates.
Watch on our FACEBOOK PAGE.
Learn more...
Watch on New York Times:
 

Watch on YouTube:

In the news -- Highlights
August 18, 2017 | Dawn -- Karachi
August 13, 2017 | NPR News -- Washington
August 8, 2017 | BBC -- London
August 14, 2013 | The New York Times -- New York, NY
August 7, 2017 | The Tribune -- Chandigarh
August 7, 2017 | The Times of India -- Delhi
April 24, 2017 | Dawn.com -- Karachi
August 6, 2017 | Mumbai Mirror -- Mumbai
August 17, 2016 | The Nation -- Lahore
The 1947 Partition Archive
A global digital archive for everyone.
ABOUT THE 1947 PARTITION ARCHIVE:
We at The 1947 Partition Archive are dedicated to documenting the people's history of the 1947 India-Pakistan Partition, a globally disruptive event that created the largest mass refugee crisis in our written human history. Our flagship oral history project has helped shed light on Partition by recording and preserving over 9,000 memories of Partition witnesses. Browse stories by clicking on the map above. Oral histories in the archive are widely distributed on social media and to universities across the world for access to researchers.  Our work is not purely academic but is public history with humanitarian undertones.  We are devoting our lives to serving witnesses and to creating a more empathetic world.
We democratize historical documentation - We are a modern digital archive that is dedicated to documenting everyone's history.  We continuously innovate techiques in crowdsourcing and other non-traditional methods that allow us to reach all segments of society, including those that are often 'left out' and don't fall under the radar of conventional studies. We empower people to document their own histories.  You can think of The 1947 Partition Archive as a global digital museum accessible to everyone, everywhere, and built by everyone, everywhere. 
Preserving memories of Partition via CROWDSOURCING: The 1947 Partition Archive, "The Archive" has been preserving oral histories of Partition witnesses since 2010 through a combined program that includes an innovative technique for crowdsourcing by Citizen Historians, as well as collection by trained scholars.  Over 9,000 oral histories have been preserved on digital video, making The Archive the largest documentation effort focused on Partition.  Oral histories have been recorded from 450+ cities in 12 countries across the world. A tiny staff supported by interns work tirelessly behind the scenes to support the 110+ Story Scholars who are and have contributed oral histories, and over 600 Citizen Historian volunteers who have devoted an estimated 100,000 hours in volunteer labor towards recording stories.  In addition to oral histories, The Archive also digitizes and preserves antiquated and current photographs of significance, family portraits, as well as objects of significance from the time of Partition.  Over 60,000 photographs are preserved in this manner.
Public education on Partition: Over 1,000,000 followers on Facebook and Twitter have shared witness stories - posted twice daily - 10's of millions of times, resulting in many reunions of old families and friends. The 1947 Partition Archive's effort to bring lived memories to the public also include hosting "Voices of Partition," witness storytelling events across the world, as well as curating audio visual traveling exhibits that bring stories to art and culture spaces.
Turning the tide on public acceptance: The sharing of lived memories over social media, millions of time,s has helped create a "critical mass" acknowledgement of the human suffering that resulted from Partition.  As a result, we are watching a change in tide of public constiousness.  We are watching as memories of Partition are becoming accepted in the mainstream and drawning attention from popular film makers, media makers, news organizations and educators.   An honest look at our past, with scrutiny will help us move toward a more just future.
How you can help: The Archive is truly a labor of love, built for people, by people from diverse backgrounds. You too can join us. Learn how to record and share a story from your community now!  Or support another story through your donation.
ORAL HISTORIES GO PUBLIC!
Online access to oral histories in The 1947 Partition Archive has begun via the Stanford University Digital Repository!
The 1947 Partition Archive is excited to partner with a consortium of universities to make the complete oral history collection available and accessible to the public. Fifty (50) oral history interviews from The 1947 Partition Archive's complete collection are now accessible via online streaming from Stanford University Library's Digital Repository at this Spotlight Exhibition.  The complete collection will be released as funding becomes available.  Please contact us if you would like to donate to this effort.  

Physical exhibits containing the complete works of The 1947 Partition Archive, with 9,000 oral history interivews and 60,000 digital documents, will be coming soon to Lahore University of Management Sciences, Ashoka Unviersity, University of Delhi, Guru Nanak Dev University and Habib University. Read the complete coverage here:  The New Indian Express, The Tribune India, Dawn.com, Business Standard (IANS), Financial Times (IANS), Times of India (IANS), The Wire (IANS), The Week (IANS)
Featured Interview Clips
Video: Ali Shan migrated from East to West Punjab (full interview coming soon)
Video: Kazi Shamsuzzaman migrated from West to East Bengal (full interview coming soon).
Video: Ajit Cour migrated from West to East Punjab (full interview coming soon).